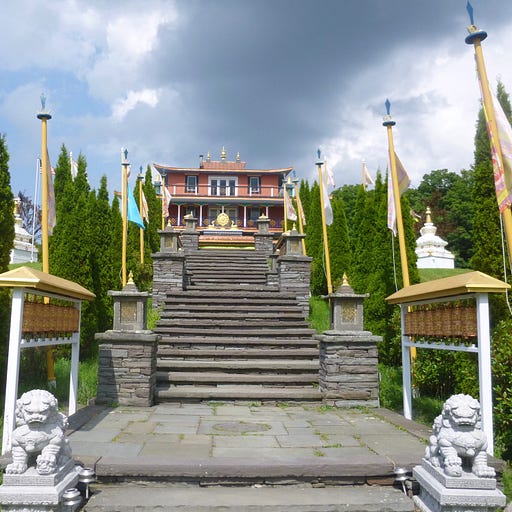 Aug 14, 2022 • 8M
I'm back!
Tibetan temple refuge, no technology, and photos!
Explorations into the philosophy and practice of what is compassion and how to understand its depth beyond feel-good phrases that fly past us, yet never take root.
Welcome to the Creator's Compass. Here, we strive to live our lives with a compass pointed towards compassion, a compassion deeply integrated into our minds so that we not only live in peace and joy, but in our ultimate strength. And with this strength, we are able to navigate our precious and brief time on this earth with purpose and excitement.

Our community is growing, and I appreciate each one of you for joining on this lofty mission of igniting our spirits into remembering our innate wisdom and compassion. If you are new here, warm welcome. Every publication and guided meditation is on our homepage, under the headers, Explorations and Meditations. Please visit as often as you wish, or need.
Subscribe for free to receive new posts and support my work.
I ducked behind lush mountains to hide away from technology for a few weeks, immersing myself both in my annual Buddhist retreat and the lullaby of oceanic waters.
Each summer my husband and I trek a long 20 hour drive to our Tibetan Buddhist temple where our teacher resides. And each summer we are greeted by friends making a similar trek from all over the US and abroad. There is something wondrous about being surrounded by people on a similar journey with the intention of bringing awakening to our minds with the aspiration of being of benefit to all sentient beings. It is especially comforting for me, given I can feel isolated living in the South where fundamentalism runs deep, much like the river cutting through the limestone cliffs in my county; strong, pulsing, and never to be underestimated. (I stole the last part of that sentence from my novel I'm currently editing.)
I've been pondering what to share with you about the energetic river of my retreat. There are endless side streams I could flow down with you, both personal and philosophical, and I was quite turned around as to where to bring us. After a few days of ruminating, I settled on the idea to keep this letter simple. The retreat is always a profound one, full of study and practice, but right now I fear not only would my words fall irritatingly short of the experience, but they would somehow profane the personal essence of my time there.
Like many of you, I've had eye-opening visions beyond common life throughout my years in this life. I call this beyondness, "that which sees beyond earth-bound familiarity". I've shared these visions with my teacher. His response is to not grasp such experiences. By grasping them, I could easily create grand stories about their meanings, further veiling my mind's awareness of Absolute reality. This veil would sink me more heavily into only perceiving Relative reality (the reality we all are comfortable with, the reality, that without the awareness of the Absolute, brings suffering by grasping.) He also warned me to be careful with whom I share my spiritual experiences. I surmised he said this to 1. not mislead others, and 2. not get caught in the whirlpool of ego-grasping.
This whirlpool of spiritual ego-grasping sneaks up on us, much like weight gain: You don't notice it at first, and when you become aware, you are a plump spiritual seeker spouting how spiritual your life has become. It happens, and it's something to be vigilant against.
With that said, I've shared a few photos found below of my time at the temple, and in future publications, I'll expand upon Tibetan Buddhist philosophy to the best of my capabilities with both story and contemplative explorations. Buddhist philosophy gives me refuge, as well as guides my heart/mind and my creative endeavors, both here on Substack and within my fiction writings. And so I share my refuge with all of you, dear readers, who are on similar paths leading you to ultimate awareness. I understand and honor Buddhism is not everyone's path, but maybe by sharing my burgeoning understandings of this life we share will be of benefit to you, or highlight something beautiful on the journey you are walking.
I believe our community here supports each of us to lift the veil to our pure, unadulterated awareness, able to behold the Absolute. As I lift my veil, I ask of you to bear with me as I stumble and soar, make mistakes big and small, reach goals and learn to love better, all of which will be reflected in my writings. In the meantime, let's deepen our gentleness and understanding towards ourselves and others as we learn to fly with our one wing of wisdom and the other wing of compassion. Just imagine all of us across the world soaring in peace and joy, singing songs of love and compassion to one another. Oh, what the world would be… what a heaven we can create.
As a brief side note, my intention for The Creator's Compass was to publish twice per month, but with an endless amount of topics I wish to cover I was unable to hold myself back from a weekly offering these past five wonderful months. As I edit my novel, I can only guarantee twice per month for a short bit. However, I predict I will feel the undeniable inspiration to send to you bonus recordings. If you are wanting me to touch upon anything specific to explore, or a meditation that may help your journey, please leave a comment below, or hit the reply button and email me.
Sending light and love always,
Renee